On this page you have access to resources from our Moving to Outstanding conference 2018.  We'd love it if you took the conference back to your school with you so please feel free to use them in your schools with your team.
Please note all views expressed are those of the speaker.
Edel Gillespie, Headteacher, Leagrave Primary School, Luton
We change children's lives – their success is our success
 Edel's talk:
Click here for Edel's presentation
Leagrave Primary school is a large school, with just about every challenge imaginable: high pupil mobility, a diverse pupil population with a large number of children who speak English as an additional language, a high number of pupils eligible for pupil premium and higher than average number of SEN pupils.
Against this backdrop Edel and her highly trained team have created an outstanding school. Her central theme is her determination to create aspirational life chances for all children.
As their Ofsted noted: (Dec 2018) "The Headteacher provides exceptional leadership. Teachers, leaders and governors share her relentless determination to make sure that all pupils succeed. Leaders' high aspirations result in excellent outcomes for pupils".
Edel will be sharing how she:
– Created a can do attitude for all
– Disseminated leadership
– Developed and embedded key drivers for outstanding outcomes
– Supports and develops practice in other schools
Andrew Griffin, Headteacher, Europe's largest primary school, Claycots in Slough
Building leadership capacity and future proofing your leadership structure
 Andrew's talk is unavailable.
Vaughan Primary School was Andrew Griffin's third headship. He took a strategic view of the school and looked ahead 7 years, developing leadership structure and capacity, all whilst maintaining a family approach of looking after one another. In that time the school expanded from 2 to 3 forms and they had a rebuild; yet the plan to build real and sustainable capacity continued.
It was through cooperation and collaboration over time, resisting short-term pressures, fixes and distractions, that Andrew created a school with strong structures and leadership, a school which secured an outstanding judgement two weeks after he left. This is a great example of what headship can look like when taking a school from good to outstanding.
Vaughan Primary School in Harrow is a larger than average school, with a high pupil mix and ever changing demographic, a high proportion of children speaking English as an additional language and a significant proportion of pupils with disability and special needs.
Andrew will be sharing how he and his team:
– Created a family in the school but with a sharp focus and achieved outstanding outcomes consistently
– Made sure they looked after their team so hardly anyone left
– Planned 7 years ahead to future proof the school
– Built leadership capacity across the school
– Built structures to future proof leadership capacity
– Increased commitment to stakeholders/the community
– Developed further capacity to give leaders opportunities for outreach work and support other schools
Julie Hiddleston, Headteacher, William Morris Primary School, Banbury
Creating a culture of excellence through fostering a culture of learning
 Julie's talk:
Unfortunately we do not have this video available.
Click here for Julie's presentation
"Leadership and learning are indispensable to one another" (JF Kennedy)
In 2015 William Morris Primary School went into special measures, and not for the first time. One year later the school converted to an academy and Julie Hiddleston became head. She quickly realised that special measures was a generous judgement and that an 'inadequate' was not adequate at all. The school struggled to achieve a combined KS2 figure of 4%, one of the worst in the country in 2016.
The school is set in an area of high deprivation and low aspiration with little inspiration. There is a systemic disregard for education within the community with a higher than average 35% of the adult population not holding any qualification at all. 11% hold a degree with only 15% holding 5 A-C GCSE qualifications. Only 4% of 16-75 year olds hold managerial/professional positions.
William Morris Primary School has a high number of children with special needs (37% across the school), a high number of children eligible pupil premium (50% in the highest classes) and even higher numbers of children with social care involvement or home-life vulnerabilities. In September 2018 a contextual analysis revealed that 56% of the school has at least one of the above 3 vulnerability factors. Every child was effectively sitting next to another child who had the odds stacked against them.
In Julie's first term (Summer 2016) 80% of teaching staff left, yet the school moved results from 4% to 33% in 2017 and then to 69% in 2018, an impressive climb especially given their children's starting point in reception averages at only 20% of children joining at the expected level for their age.
Key to the school's success has been the incredible learning culture created across children and staff. Their vision, 'excellence in everything we do', permeates the high performing team the school has created in just a few years.
Julie will be sharing:
– Creating a real learning culture amongst all staff
– Staff who own their learning and drive it forward to benefit for the children
– How every opportunity is seen as a learning opportunity
– The hidden culture behind a culture of excellence
– How excellence requires a strategy, it doesn't happen by osmosis
Philippa Moore, Windhill21 School, Bishop's Stortford
10+ Ideas to help you become outstanding
 Philippa's talk:
Click here for Philippa's presentation
Philippa Moore's journey with Windhill21, Bishop's Stortford, started as 1 day a week in 2009. In 2010 she become Deputy Head and with the Head Teacher started to drive the school, considered the local 'sink' school, to become a solidly 'Good' school. In 2013 Philippa became the Head Teacher and secured an outstanding judgement in October 2018.
The school is set in Bishop's Stortford, Herts, an affluent area however the school itself is in the lowest 20% of impoverished areas in the country. It had previously struggled to fill places, being 40% full, and then had many pupils with English as an additional language join. However now they have attainment of 78% and progress that is above average.
Philippa and the team have done many things to create their outstanding school, so many that Philippa will be sharing 10+ things they did that might help you take your school to outstanding:
– Making new ideas work
– Building sustainable teams Operational wins (like getting rid of meetings)
– Growing the team to be excellent
– Taking teachers from 'Good' to great practice
Sarah Rempel, Headteacher, Manorside Academy, Poole
The journey to 'Outstanding': High expectations, love and the relentless pursuit of excellence
 Sarah's talk:
Click here for Sarah's presentation
Sarah joined Manorside Academy in 2015 when the school became a sponsored converter academy. Results had been consistently low for years; classes were without teachers, the budget was nearly in deficit and behaviour was poor. The school had a falling roll and the reputation in the local community was not favourable.
Three years later, the school achieved an Outstanding judgement from Ofsted. The inspectors noted that "Teaching is highly effective. Teachers set tasks which challenge pupils to give their best," and "Behaviour is outstanding. Pupils love learning, and their very evident enthusiasm to take part and do well is a key factor in lessons."
That enthusiasm permeates the very fabric of the school, with Sarah and her team relentlessly driving forward to raise attainment and progress whilst ensuring that every child feels loved and cared for and wants to do their very best.
In 2017, the school was the top in Poole for their progress score, however, they are still relentlessly pursuing the top spot in the league tables. Whilst results for EYFS and KS1 are consistently high, KS2 outcomes are not yet in line with national.
The school serves pupils from predominantly a White British Heritage and where the number of pupils eligible for free school meals was double the national average and there is a higher than usual number of pupils with SEN or disability.
Sarah won't be sharing how the journey was easy, because it wasn't; it's been hard work and there is no magic formula. But, through relentless consistency of approach and their love for their pupils they have created a wonderful school, one that children and parents want to go to.
Sarah will be sharing how she and the team:
– Established high expectations where there were few
– Stripped everything back to focus on what matters most – good quality teaching and learning
– Showed visible leadership
– Established a shared vision
– Implemented a robust accountability structure
– Kept a relentless focus on consistency
– Developed a safe, happy school community filled with love
– Were judged outstanding with good, but not outstanding, data
Amanda Webb, Headteacher, Talavera Junior School, Aldershot
How do you make an impact on achievement and progress when you have children for an average of 2 years?
 Amanda's talk:
Click here for Amanda's presentation
Amanda Webb joined Talavera Junior School in 2015, the school had previously scraped a 'Good', and prior to that it had previously moved in and out of 'Requires Improvement'.
Talavera is a larger school with several unique challenges which mean they typically have children with them for 2 years, in fact their 2017 Y6 class had only 25% of pupils who started with them.
75% of their children are from service families, meaning they often leave the school 2 years after joining, and many have English as an additional language.
On top of that the feeder infant school takes children up to year 3, meaning they don't join Talavera Junior School until year 4.
And yet the secondary school they feed into come back and tell them their pupils arrive at the level they would want them to be.
So how do Amanda and the team achieve attainment of 79% (local authority = 68%) and progress that is well above average?
Amanda will be sharing how they:
– ensure high quality teaching and learning
– close the gaps and ensure high progress and attainment
– created a no excuses culture
– make sure every second counts
– ensure amazing CPD for everyone
– create leadership in all staff
– develop learning support assistants who are so good they are indistinguishable from teachers
Sonia Gill, Founder and Director, Heads Up ltd, author of two #1 ranked books 'Journey to Outstanding' and 'Successful Difficult Conversations in School'
A great vision and clear values are critical for excellence
 Sonia's talk:
Click here for Sonia's presentation
Sonia has helped many schools develop their powerful vision and she will be sharing:
– Why a vision and values are necessary to move from good to great
– Why visions go wrong
– How to get your vision working
– The impact a powerful vision has
– The importance of values in creating a high performing culture
Moving to Outstanding sells out every year.
Make sure you secure yours by signing up for priority ticket access at: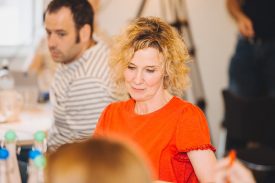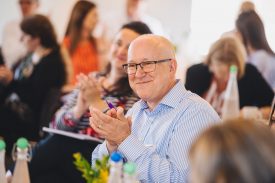 …