Do you want a year's worth of good ideas in one day?
Get school improvement ideas from inspiring schools
Outstanding against the odds: Courageous heads, tough schools, holistic education
Join our online conference to hear how headteachers beat the odds to deliver excellence for their children
Are you struggling to overcome your challenges right now? Things like recruitment, budget, attendance?
Would you love to visit amazing schools to get ideas, but you don't have the time?

OK - We'll bring them to you 🙂
Our annual conference is in it's 13th year.
Attendees consistently rate it a 9/10 event 🙂
You will be like a kid in a candy store, trying to choose between all the great ideas that you know will move your school forward!
Meet some of our speakers from last year
Linda Hothersall and her team at Eastgate Academy serve a community with high deprivation. I've been to the school, I've seen their context.
For those children, they need the very best education. More than others might. They've been awarded 'outstanding' twice, most recently in 2023.
Paula Phillips and her team at East Wichel Primary & Nursery has led the first school to outstanding in Swindon, bucking a narrative about Swindon being one of the worst places to live in the country and an education cold spot. The school was rated outstanding in Dec 2022.
Paul Murphy and the Lancasterian team serve a tough demographic in Tottenham. Good isn't good enough for them. The school has gone from the bottom of the borough to outstanding in four out of five areas, in June 2023.
We'll be finding and announcing speakers throughout the year... watch this space!
What your colleagues say about the conference:
"All the speakers were inspirational and I took away so many ideas. I am glad I gave myself the gift of time to attend. "
V Lord, Headteacher, Irk Valley Primary School, 2023 conference
 What did you enjoy the most? "Having a range of outstanding Heads being very honest about what they have been doing. From a range of backgrounds, Heads have given us different stories. They were inspirational and I got some really good ideas. Thank you very, very much."
C Taylor,
Headteacher, New Mills Primary School, 2023 conference
"It was a wonderful opportunity for all of SLT to hear the messages from each of the HTs. It generated important discussions, we will set some time aside to further explore and create plans of action. Thank you!"
A Trott,
Headteacher, Raynham Primary School, 2023 conference
| | |
| --- | --- |
| 09:30 – 09:40 | Welcome |
| 09:40 – 10:25 | Speaker 1 |
| 10:25 – 10:40 | Reflection & Break |
| 10:40 – 11:25 | Speaker 2 |
| 11:25 – 11:40 | Reflection & Break |
| 11:40 – 12:25 | Speaker 3 |
| 12:25 – 13:05 | Reflection & Lunch Break |
| 13:05 – 13:45 | Speaker 4 |
| 13:45 – 14:00 | How Heads Up supports schools |
| 14:00 – 14:15 | Reflection & Break |
| 14:15 – 15:00 | Speaker 5 |
| 15:00 – 15:15 | Reflection & Break |
| 15:15 – 16:00 | Speaker 6 |
| 16:00 – 16:15 | Reflection and Close |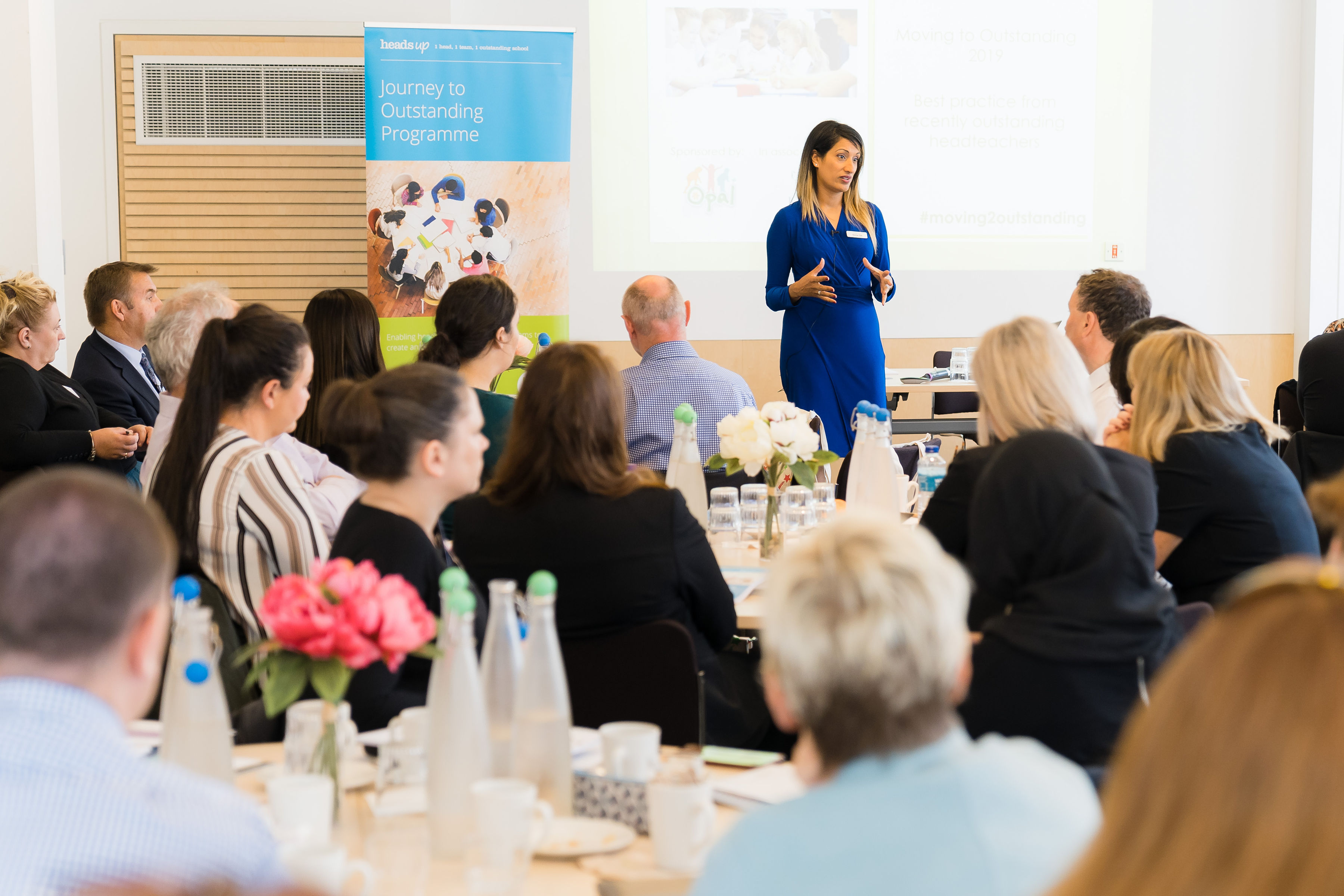 Still not sure about coming?
Imagine getting 1, 2, 5, 10 really valuable ideas from them that solves a problem you have, or really moves our school forward, in just one day.

Wouldn't that be worth a day of your precious time?

What if your leadership team got fired up with the ideas and ran with them, getting them to work in your school.

Would that improve your school?

But what if all you found out was that your school is as good as theirs, if not better - Would that give you greater confidence in what you're doing in your school?

Because I know you'll get so much from this one day and that you will love it, I'm prepared to guarantee it.

If you come to the conference and don't find it useful, you can have a full refund.